Phonics & Spelling Schemes
Phonics and Reading Schemes
Here at Blacklow Brow School, we use a variety of phonics and reading schemes. Take a look at some them below, some of which you can access at home with your child.
Read Write Inc
In 2018, 90% of children at Blacklow Brow School passed the phonics screening check in Y1 which was 7% above the National Average.
Read Write Inc. is a method of learning centred on letter sounds and phonics, and we use it here at Blacklow Brow School to aid children in their literacy.
Read Write Inc. Phonics teaches children to read accurately and fluently with good comprehension. They learn to form each letter, spell correctly, and compose their ideas step-by-step.
Using Read Write Inc. the children learn to read effortlessly so that they can put all their energy into comprehending what they read. It also allows them to spell effortlessly so that they can put all their energy into composing what they write.
Children learn the English alphabetic code: first they learn one way to read the 40+ sounds and blend these sounds into words, then learn to read the same sounds with alternative graphemes.
They experience success from the very beginning. Lively phonic books are closely matched to their increasing knowledge of phonics and 'tricky' words and, as children re-read the stories, their fluency increases.
Along with a thought-provoking introduction, prompts for thinking out loud and discussion, children are helped to read with a storyteller's voice
Spelling Shed
Learning and spelling words is important to your child's future. Spelling words help lay the basic foundation that your child will need throughout their education and life. Spelling is important because it aids in reading. It helps cement the connection that is shared between sounds and letters.
At Blacklow Brow school we use the 'Spelling Shed' app to help our children to learn their spellings. The Spelling shed is a whole school spelling scheme giving 100% coverage of the national curriculum. It is fully controlled by the class teacher and enables each child to have custom spelling lists created for their ability. The scheme is accessible at home on a tablet or phone so that children can practice their spellings as part of their homework in a fun and engaging platform with games to play.
Teachers set weekly spellings to be tested in school and these are set via the app. The spelling shed is dyslexia friendly using the 'open dyslexic' font and has three levels of difficulty to support pupils of all abilities through appropriate challenge.
Parents at Blacklow Brow School say the spelling app engages their children and provides interesting ways of practising and embedding spellings.
Reading Eggs
Learning to read is one of the most important skills your child will learn.
Reading Eggs helps support a child's reading journey from the very beginning, and grows with them at their own pace. The best part is that children love it. The program makes learning to read fun and highly motivating for children aged 2–13 – nurturing a lifelong love of reading.
Reading Eggs was created by expert educators with over 30 years of experience. The multi-award winning early learning resource supports your child's 'learn to read journey' with carefully designed online reading games and activities that are easy to follow, self-paced, and highly engaging for young children.
Reading Eggs is based on solid scientific research to give your child the best chance at reading success.
Using the five essential keys to reading success, the program unlocks all aspects of learning to read for your child.
---
The lessons use colourful animation, fun characters, songs, and rewards to keep children motivated.
The program is completely interactive to keep children on task.
When children start the program, they can complete a placement quiz to ensure they are starting at the correct reading level.
Parents can access detailed progress reports as well as hundreds of downloadable activity sheets that correspond with the lessons in the program.
The program includes over 2000 online books for kids – each ending with a comprehension quiz that assesses your child's understanding.
Collins Big Cat
Collins Big Cat, is a whole-school reading programme that supports every child on their reading journey. Children become fluent readers through hundreds of high-quality banded books by top authors and illustrators. In-depth teacher resources support all stages from early reading through phonics to guided and independent reading for more confident readers.
We have fantastic fiction and non-fiction created by the biggest authors and illustrators. With hundreds of books across a wide variety of genres, illustrative styles and engaging formats, there is something for every reader.
Every book is unique – the wide range of exciting fiction includes much-loved classics, traditional tales, poetry and plays, while the exciting range of non-fiction encourages your pupils to explore topics from sport to science.
Oxford Reading Tree
As the UK's most successful reading scheme, Oxford Reading Tree is currently used in over 80% of primary schools and has helped millions of children from all over the world learn to read … and love to read. Rooted in reading for pleasure and with systematic phonics at its heart, Oxford Reading Tree's well-loved characters, breadth (over 800 books!) and varied writing styles give children everything they need to become confident readers.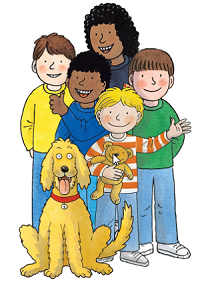 At school, and at home
Schools across the world use Oxford Reading Tree books, including series such as Floppy's Phonics, Biff, Chip and Kipper, Traditional Tales, Songbirds Phonics, in fact, and Story Sparks. A separate range of books, each containing supporting notes for parents, have been created to support learning at home.